Special Education
The Speech and Language Pathologists of Sunman-Dearborn Community Schools have created a website filled with resources and helpful tools. Please use the link below to access the website.

SLP Website


Please use the link below to watch the Introduction Video from the Office of Special Education:
Special Education Staff Video


The IDOE recently shared the fourth video of a series designed to help parents. We hope you find this video helpful in working with your students at home. Please use the link below to view the video.

https://www.youtube.com/watch?feature=youtu.be&utm_content&utm_medium=email&utm_name&utm_source=govdelivery&utm_term&v=bMxE_-Vhg2o




Special Education Vision: The vision of special education at Sunman-Dearborn Community School Corporation is to provide an inclusive environment that proactively guides students on their individual paths to success, removes social barriers, fosters social and emotional learning, and promotes lifelong achievement through family and community engagement.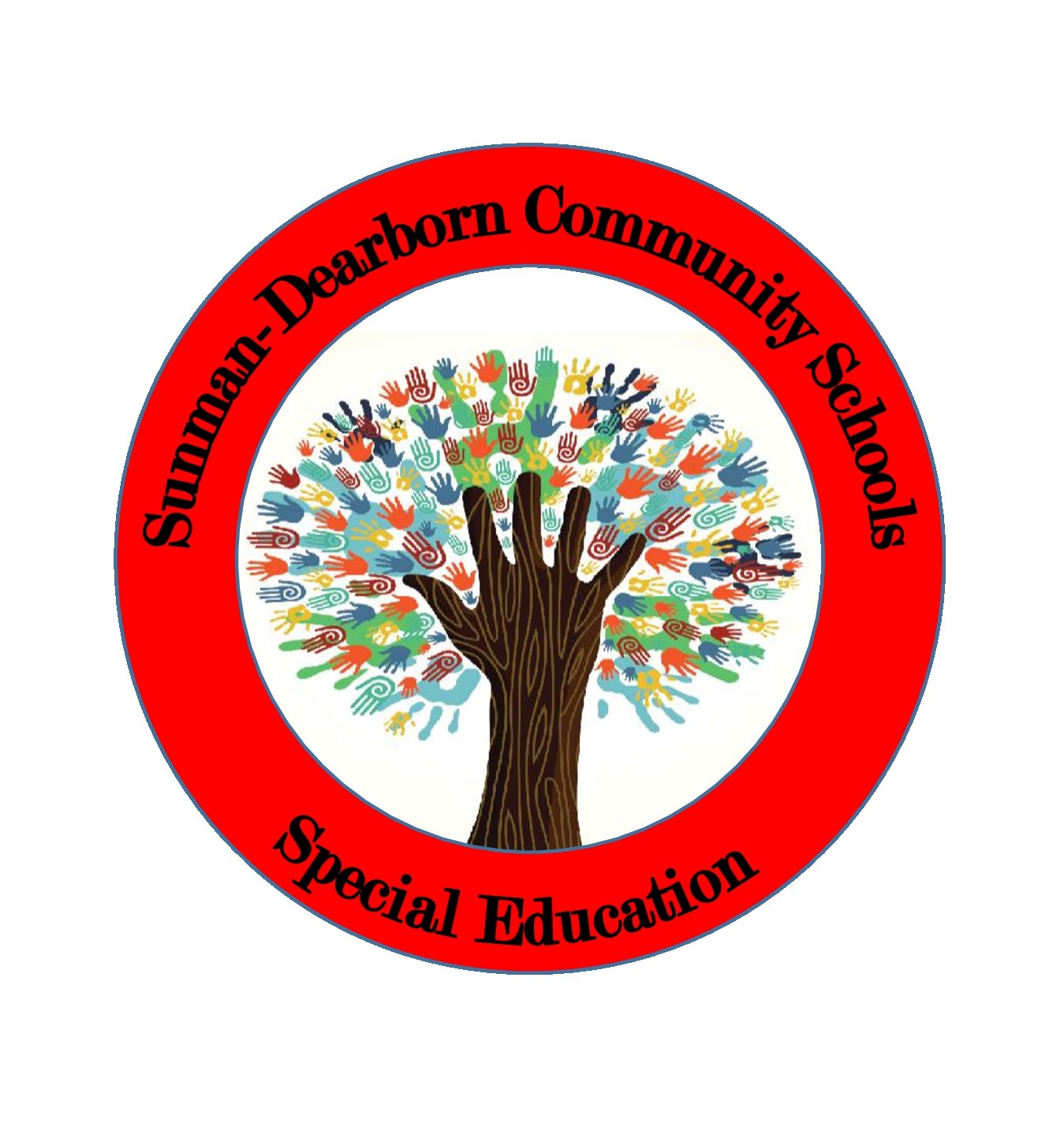 ---

Contact Information:

Special Education Office
Attn: Emily Denning
925 N. Meridian St
Sunman, IN 47041
812-623-2291



Kelly Roth Brandi Hofer Abby Ruwe
Director of Student Services (ext 10905) Occupational Therapy (ext 13910) Counselor/Social Worker (Ext. 13906)
This email address is being protected from spambots. You need JavaScript enabled to view it. This email address is being protected from spambots. You need JavaScript enabled to view it. This email address is being protected from spambots. You need JavaScript enabled to view it.


Emily Denning Cyndi McClure-Hoerst Elaina Beach
Administrative Assistant (ext 13902) Certified Occupational Therapy Assistant (ext 13910) Physical Therapist (Ext. 13912)
This email address is being protected from spambots. You need JavaScript enabled to view it. This email address is being protected from spambots. You need JavaScript enabled to view it. This email address is being protected from spambots. You need JavaScript enabled to view it.



Patty Bourquein Lori Trimble
Spec Ed Program Coordinator (ext 13901) Teacher for the Deaf/Hard of Hearing(ext 13907)
This email address is being protected from spambots. You need JavaScript enabled to view it. This email address is being protected from spambots. You need JavaScript enabled to view it.


Daelle Woolwine Mindy Koehne
Educational Consultant (ext 13903) Blind/Low Vision (ext 13913)
This email address is being protected from spambots. You need JavaScript enabled to view it. This email address is being protected from spambots. You need JavaScript enabled to view it.


Trisha Goldsmith Judy Hagedorn
Educational Consultant (ext 13904) Non-Public Teacher of Record (St Nicholas)
This email address is being protected from spambots. You need JavaScript enabled to view it. This email address is being protected from spambots. You need JavaScript enabled to view it.



Alison Gandenberger Jamie Callaway
Educational Consultant (ext 13905) Speech/Language Pathologist Assistant (ext 13908)
This email address is being protected from spambots. You need JavaScript enabled to view it. This email address is being protected from spambots. You need JavaScript enabled to view it.